Your ads will be inserted here by
Easy Plugin for AdSense.
Please go to the plugin admin page to
Paste your ad code OR
Suppress this ad slot.
DAY 8 still: Through paper thin walls you could hear the hushed conversations in the late night three rooms down in each side. In the most distant room, Belal is reading Quran. Although I can't make which Soura it is, but the mere lilt of tajweed soothes my soul and calms my nerves. I haven't heard Quran or Athan since we came here.
Some where closer on the other end, there's a conversation going with the occasional raised voice where you could know what it is about, but you force your ears not to hear in respect to the ones exchanging it. Next door, a room filled with boys' giggles, soft snores, and other things that we heard and thankfully didn't smell. Effat & I ended up in a room by our own, we spent the first third of the night annoying the boys next door & bursting out in laughs & giggles until Hareth had to come knock on our door (twice) asking us to keep it down first, and then to sleep – courtesy of Dr. Ramzi. The second third of the night we talked and talked about Effat's work and career, and a little about mine as well… Then she went to sleep and I spent last third of the night thinking as I had no charging in my phone to read or write.
Day 9: Around five I took a walk around, and thought about how the day will be, and how everyone would behave. Breakfast came and the normalcy of people's demeanor was comforting and indicating that the day will not be like the one before it… Loved it, smiled, took my seat at the breakfast table next to Fouad (who by now takes the majority of my breakfast happily since I don't eat eggs or like toast), finally charged my phone courtesy of Husam and the day started to more stairs and more walking.
The magic of the place still talks to me, but now it says different thing, at different levels. For some reason, I'm not longer taken by the sparkling sands, or magic trees, or white peaks… I'm not swept into an instant trance when at the sound of gushing water when I pass by a waterfall… I don't even lose track of existing as I track a soaring eagle as it flies around in the sky. I'm just in this constant state of clarity. It's like I was without my eye glasses for sometime and I've finally put them on, and can see the intricate details of what lies around me. What lies around me in my life.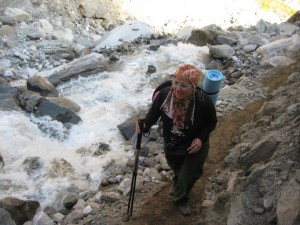 Slowly as we are hiking up, the terrain changes, the tall trees and thick forests are replaced with less intense pale autumn trees and small shrubs, we no longer see animals carrying goods and supplies (and don't miss their gifts of feces along the roads), waterfalls are becoming more frequent and violent. But most of all, sun is becoming harsher albeit welcome, and its becoming colder and colder.
It was rather short distance today, our trained muscles helped us through, and we had lots of stops along the way to enjoy waterfalls and open terrain. When we finally arrived to the lodge, which was monopolized by two other large groups, rendering hot water for shower, warm seats or free bathrooms very scarce.
Just before arriving, there was a waterfall cascading down a set of horizontal dark stones that looked like a zen architected by a posh contemporary landscape designer.  Sub7an Allah! We (three musketeers) spent a long time there enjoying a truly amazing view with Fouad, Hareth & Husam. Husam is just amazing! I have not met someone who is as funny and witty who makes you laugh without making fun of others or things, and he doesn't use sarcasm, just intelligent witty remarks that are simple but truly deep. On top of being a great photographer with a knack for catching the difficult moments, and one of the kindest you will ever meet, he holds a very serious conversation and opinionated views on the current affairs. Husam is for sure one of the favorite people within the trip & beyond I hope.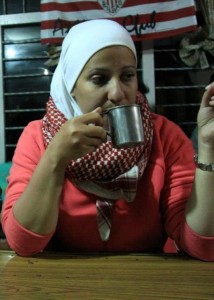 It was a very-very cold night (that later on proved to be the absolute coldest of the entire trip). We couldn't exactly sit in the common room for more than 40 minutes (although we tried to kick the other groups out by singing out loud and claiming the room to ourselves), we had to go outside once we had our dinner as they used the common room to sleep. We felt rather privileged too to have rooms to sleep in, a nice Canadian couple spent their night in a closet that was filled with spare mattresses they used as beds.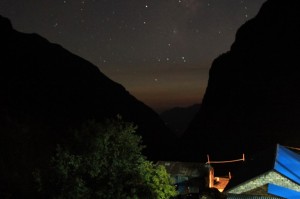 We went outside for some star-gazing and a few pictures, Effat showed me the tricks to shooting stars in the night, I reminisced one of the best eras of my life as I was telling Hamzeh (who was strangely very interested and keen) about Greek mythology and the constellations in the sky, hearing my father's voice in my mind telling the stories with the glint in his hazel eyes and the side of his mouth quirked up. About an hour later, it was colder than we could bear, and we quickly sneaked into our rooms one by one seeking the shelter and warmth of small rooms & feeling lucky that we had one.
Three Musketeers roomed together tonight, and of course, we didn't go to sleep directly (why should we?)… Since it was freezing cold, we all simply snuggled in our sleeping bags, and looked pretty much like huge orange caterpillars. & of course, the knock knock on our door by Hareth signaling the "lights out"  forced us to turn the lights off, and tone our talks to a hush that soon turned into a steady breathing of a tired hikers by Maha & Effat, and tabbing on an ice cold mobile screen for me to write what happened today.
With thoughts of my dad, Greek Gods & Goddesses, I'm forcing my lids to stay open, I'm dozing off to the great sensation of falling asleep… It will be tomorrow that we get to the highest point of our trek and reach the base camp, around this time tomorrow I will write again.
Read Previous Days: