Your ads will be inserted here by
Easy Plugin for AdSense.
Please go to the plugin admin page to
Paste your ad code OR
Suppress this ad slot.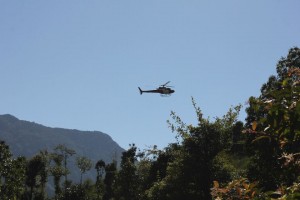 This entry has been modified from the original diary that was written during the trip.
You'd wonder, does it take a week to see through who people really are, or is it the accident with Muna that forced some to shed the filter they used for their words and actions before they are out? Or was the hidden fear and stress that invokes the primal reflexes rather than the tamed more civil demeanor. I guess I would never know. But if there was a favorite day for me previously, then now I diffidently have a least favorite day.
The day started late (for the group), I didn't run into anyone before 7, even Dr. Ramzi was no where to spotted in the early hours. Muna was to depart us around 9, although we've all raved about the Helicopter ride that her injury earned her, you could read the acknowledgement on all the faces around  that as exciting as it is to see the mountains from above in a helicopter, leaving is the last thing Muna, or any of us, wanted to do. She was heart broken, and who wouldn't be.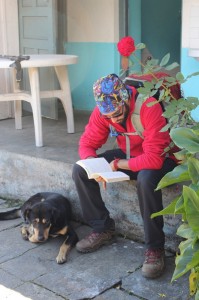 The wait for the helicopter in  one of the lodges near the helipad seemed as if it was stuck in a time vacuum, the minutes wouldn't move. Some read, some snapped pictures, Effat & Dr. Ramzi arm-wrestled, Shireen wrote in her diary (most likely about last night & the power outage she caused when attempting to dry her hair with a hair dryer, blacking out an entire mountain in the Nepali night – So "Romantic Comedy" style

This girl is amazing on so many levels, I have more about Sheesh on upcoming days). Dr. Inaam was chatting up Muna and Dundee our Sherpa was getting very very worried about timing. The Helicopter cam & took Muna with it around 10, and off we went on our day.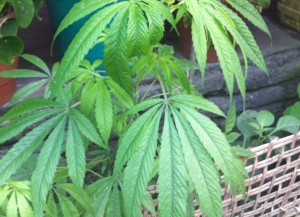 Getting out of Chhomrong was hard, the stairs steep and filled with animal feces more than ever, the day hot and somewhat humid, and the spirits lower than the usual. When we got to the lunch point, and despite the raw atmosphere, we attempted to have fun. By now we've memorized the modest food menu which is enforced by government by heart, we know what we are ordering before even looking. And since everything tastes completely different in every lodge, having a favorite doesn't make a difference.
Your ads will be inserted here by
Easy Plugin for AdSense.
Please go to the plugin admin page to
Paste your ad code OR
Suppress this ad slot.
One welcome sight to some was the interesting 9-petaled plant that was growing unapologetically at the side of the lodge. That was a good 30-minute diversion to a few, creating a pocket of freshness the day lacked so far, and steering the mood into the right direction. While some fooled around and had some argeeleh, the cards emerged, and a game of Trix Complex was played and enjoyed (yes, I won ;)).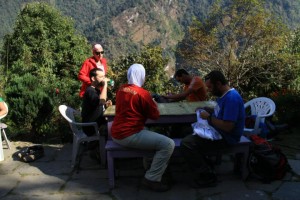 We arrived to the lodge around dusk to the sight of Hamdi & Husam leaning over a scrap of paper on a wooden table & what seems to be a very complicated mathematical equation to crack. What I first thought was one of Hamdi's many mind-teasers, was a riddle of who gets what room in a small lodge with not enough rooms to take all of us in. As we move higher and deeper into the mountains, lodges become more modest, people poorer, life harder, and amenities less available and more expensive. At this point, porters and animals will have to travel much longer carrying goods on their backs to reach this far, and it would only get harder as we progress.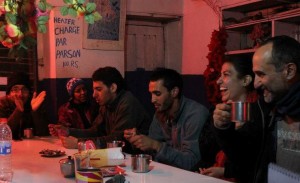 Fouad can be painfully annoying and childish sometimes (actually, most of the times), but when the moment calls, he rises up to the occasion and handles the situation like the head man of the family. Zaid the younger brother is equally annoying and even more mischievous, but no less dependable as a rock when its needed. They worked their magic, reasoned with those who reasoning works with, and humored those who needed to hear the words, & worked things out for the rest when all else failed… by 7 PM we are all sitting on the dinner table savoring the warmth of the near-by kitchen cooking everything from scratch, and cuddling our sticky hot ginger lemon tea metal cups.
The night started slow, but with some music, lots of cards, and a few jokes here and there, people loosened up, and slowly the heavy chip on some shoulders dropped, smiles returned to the mouths, and warmth returned to the eyes. As I was playing scrabble with Dr. Azzouqa, I couldn't help but wondering how the personalities started unraveling to me like magic.
This phone needs to be charged, and tomorrow, I will write again.

<Video by Dr. Razmi Tabbalat>