Your ads will be inserted here by
Easy Plugin for AdSense.
Please go to the plugin admin page to
Paste your ad code OR
Suppress this ad slot.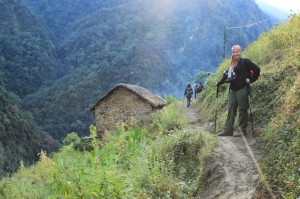 If there's one regret I have in this entire trip, it's not being able to walk the last 10 steps of the hike! I was really looking forward to that feeling: "The Accomplishment". Feeling that I did it, I finished the whole hike. All the pain, agony and trouble finally finished and done, what's left is the afterglow and the knowledge that I have done it.
But instead, I arrived in a jeep that took me for an hour through the last few kilometers of the trail (Think of a pale old country road in an old jeep squeezed with another 8 locals in a mix of loud Hindu songs & curry sweat). The long walking days with lots of taking stairs down put a lot of stress on the knees. My right knee has been bothering me for some time now, but I have kept silent about it thinking that I'm sucking it up and rising up to the challenge I was put in. Maha & Effat kept making fun of my repeated slipping and off-balance falls once they see me laughing off my head after falling (laughing it off would make much better sense than crying or shouting in pain if you ask me).
Not wanting to put much pressure on my right knee, I fell down and twisted my left knee under my body in a very nasty angel 2 hours into the 5 hour hike that was to take us from Jhinu to the finish line at Nayapul before getting into a bus to Pokhara.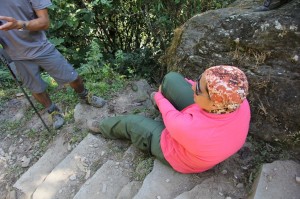 I knew how bad it was the minute I heard the crack and felt the pain shoot up my whole body! But I thought that this is it, this is the point where I'm tested, where I push myself, where I show my body who's boss and just how much I can take it… I refused to cry, refused to let go of my lip biting it until I could taste the blood between my teeth.
Perseverance, that's what this is all about! As I saw the majority of the group passing by us and moving on on their way, I kept reminding myself of how much I didn't care if I reached the finish line around mid-night moving at a pace of a tired snail, but I will reach the finish line, I will have my sense of achievement, and I will persevere… I was wrong.
For the first half an hour I tried to use my walking poles to support my weight off of my left knee, but my right knees wasn't all too happy with the extra work it had to perform, knowingly that I have been holding my weight on the left one for a while as the right one was seriously damaged.
Effat & Maha decided that I have to use them for crutches for another half an hour, but I'm not a small girl, and with their already full back-packs, the steep downward narrow trail and my continuous "I'm fine, I can do it" didn't make their job easy, and that plan was abandoned.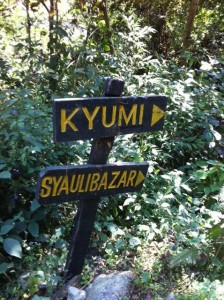 I hate being a burden on people, and I hate feeling helpless! But this was getting ridiculous & the pain is starting to get to a point where I can't take it no longer (I'm not just saying that, but I have a VERY high pain threshold, the kind that I deliver babies with no pain killers and no higher cry than a whimper… the kind where I break a leg and walk on it for 2 kilometers, the kind where I get a glass splinter in my eye and hold a bloody blob of keelenix over it while giving instructions to my family on what each would need to do! You know, that kind).
Around that time, Fouad & Zaid who usually walk at the back of the whole pack to ensure that no one is left behind have caught up with us. I know now that I was a terrible patient to put up with, insisting that I'm ok, don't need the help and I want to finish the ride off. After insisting through my "I'm ok, I can do it, stop whining Nada, there's nothing wrong with you, I can do it" I finally agreed that the marvelous Kalbouneh brothers support me as I try to make it through the tricky rocky trail.
I'm very self-conscious about my weight, I'm not a small girl and I know that Zaid's knees weren't exactly cooperating with him throughout the hike, so the more I pretend everything was ok, the worst I made it for them to be able to help me. Finally, Fouad – the man of the moment again – took an executive decision and called for a horse ride to take me an hour into the trail to a place where we could get a jeep drive.
Your ads will be inserted here by
Easy Plugin for AdSense.
Please go to the plugin admin page to
Paste your ad code OR
Suppress this ad slot.
The horse ride (which is actually a mule ride) was a horror ride… scary as well as excruciatingly painful. I had to balance myself on top of a wobbly animal on a trail that is going twistingly & dangerously  downward on a very narrow path with high mountain on one side, and a deep ravine on the other. I had to balance myself with my feet in the paddle-like foot hooks on sides of the saddle which put more pressure on my already hurting knee. I can count on one hand the times in my life when I was truly scared, that counts as the second most scared I've been in my life (driving a car as it was flipping three times in air before finally crashing into the ground and then a wall being the most scared).
Fouad & Dundee never left me, although they mostly had to stay behind the mule because of the narrow road (later to know from Fouad that it was a horror ride for them as well, as the mule was happily digesting whatever it had for breakfast that day and emitting all sorts of sounds, smells and droppings). I think the extra weight it was carrying helped speeding the process too.
As I was seeing the faces of all the guys appearing hours later to the rest house where we started at Nayapul, I can sense the euphoric feeling they had, and couldn't help but envy the glint in their eyes, and the grin on their faces! "We MADE IT" the majority of them said! Biting off my sense of failure, I couldn't be but happy for them, and as more and more of them showed up, I was slowly transformed into a happy person with a bad knee who's happy for her friends for their achievement, and left the "feeling sorry for myself" to a later time on the agenda.
A pleasant surprise was Muna, who came from Kathmandu to meet us at the finish line. Seeing her, seeing how much she was happy, and encompassed with the happiness of everyone else I blinked back my own tears, and listened to my brother Nizar in mind with his NLP/The Secret/Power of positive thinking crap (sorry bro) that thinking is believing and started telling myself that I made it too, I came through the finish line! As we posed for pictures at the finish line, I shouted with the lot "WE MADE IT" until I believed it myself! At least for a couple of seconds until it was time to walk to the bus, and  I noticed that beyond leaning on someone to stand, I can't do much more of any moving around.
The three steps of the bus were without a doubt the hardest three steps that I had to take my entire life! With none of my knees cooperating to hold my weight, and feeling awful for holding the line of tired happy hikers who want to get into the bus, I thanked God for my dark shades as I cried my eyes off.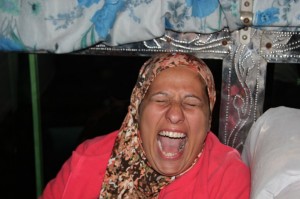 The ride to Pokhara was around three hours, we reached the hotel/resort where it was still light out, I was wheeled (on a pre-historic wheel chair) by Belal who had more fun pushing me and pretending to be a pilot or a captain  I couldn't tell, than I had fun being pushed into a room at the very end of the resort.
As they all went out for another steak dinner in Pokhara and some serious shopping, I took a hot bath trying to sooth my knees and unloaded lots and lots of my emotional baggage. The guys came back around 10, Maha & Effat were nice enough to come to my room and keep me company for a while were the rest of the gang were in the lobby or gathered somewhere else having fun together.
We had a very nice looooooooong conversations, after all of these years, it was wonderful how the story of how I met Khaled – my husband – online in 1998 still raises eyebrows… in a way, it astonishes me and never fails to put a smile on my face and reminds me of Tara and how we used to talk about "our online boys" for hours.
I called the insurance company earlier, and there's no hospital with x-Ray in Pokhara, so tomorrow the first thing to do once we arrive to Kathmandu would be to go to the hospital to check on my knee. R
Tomorrow is another day, and tomorrow I write again.
Day 1&2 | Day 3 | Day 4 | Day 5 | Day 6 | Day 7 | Day 8 | Day 9 | Day 10 | Day 11 | Day 12