Your ads will be inserted here by
Easy Plugin for AdSense.
Please go to the plugin admin page to
Paste your ad code OR
Suppress this ad slot.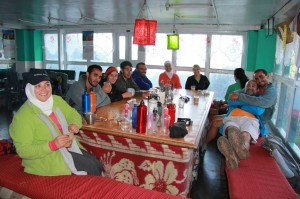 Just as I expected… waking up to sunrise on the mountains in our room was priceless. I was riveted for a whole 20 minutes watching the changing colors of the dawn while propped up on the bed snuggling in my orange sleeping bag, wishing that I had a hot cup of anything, surrounded by the soft breathing of Maha & Effat, the distant snoring of someone in the lodge, and the shy voices of locals as they start their day. I took a walk just before my daily encounter with freezing cold water on my face and between my teeth and was fully awake before 6 am.
There was a booth selling Nepali handicrafts and jewelry on the curb of the lodge, I was particularly eager to get Muna a pendant with "Um Mani Padme Hum" prayer that she was going  to buy a day before her accident. She looked through several but decided to hold off buying that one thinking that she would find a better one in the days to come. I don't know why I got so emotional about that! The fact that we sometimes delay things in life, for stupid excuse or real reason it doesn't really matter… but then life happens and we drown in the events & their consequences that we don't even notice to regret it. I was floored with the realization, and I felt the lump grow in my throat. As I was looking them over Dr. Ramzi came and asked about what I was buying, as the back of my eyes burned, I just smiled and told him what I was shopping for, hoping the insightful person that he is wouldn't ask anymore questions. He didn't.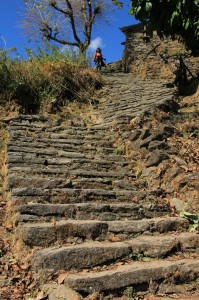 The day hike was without a doubt one of the best and most interesting days ever. We knew the path that we would go through (or at least know a great portion of it), we were to pass through Chhumrong (It's the village where we said goodbye to Muna), there was a particular set of stairs (I would say a bit below a thousand of them) that we took down from Chhumrong and were horrible to go down as they were steep and each step was high… thinking of going up those stairs couldn't be an easy thing we thought, and it wasn't.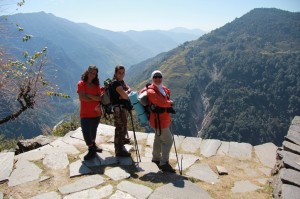 Three musketeers stuck together start to finish… having fun, stopping often, taking pictures, talking, gossiping, playing, singing and everything in between. For the most part of it, just like the day before, Dundee our Sherpa stuck with us as well. I got to think later that he just had so much fun with us (despite the fact that he couldn't understand over 80% of what we said in Arabic), but he laughed along.
Half way down the way to Jhinu after we passed Chhumrong, we found this small rest-house with a couple of peasants selling cold drinks and snacks, in the corner, there was a local selling tomatoes to other locals, and we couldn't help but buying a good 3KGs from him. Although it was probably the most expensive tomatoes we bought in our lives, it was also one of the best I've tasted in my life.Cold, sweet with a tang, and extremely juicy despite its firmness (I know that I'm singing the praise of tomatoes here, but believe me it was worth it). We thought we might make Gillayeh once we got to the lodge, noticing that only around 5 tomatoes survived our hungry teeth, gillayeh was out of the question.
When we finally reached the lodge sometime in the late afternoon, there was plenty of sun light, and whole lot of things to do. We quickly changed our cloths and went down what seems to be another set of a thousand stairs (later told by Hamdi who counted them going up that they were around 1017 steps, not mentioning the several spans of 100s of meters of steep hill with no stairs). Destination: The Hot Springs. Images of Ma'een or 7ammeh rushed to mind, but what we saw was a lot more interesting.
The water was not that hot, its more lukewarm than hot, but in the cool weather of 16 degrees around, even lukewarm was more than welcome. There was two little pools that are around 50 cm deep, a couple of meters in length/width. We quickly got into the one at the far end which had less locals/more foreigners in it. To the side of the pool that is built from what looks like black granite-like rough stone there was this huge river, if you rest your head on the side of the pool and perch yourself a little up, you can stare at the gushing water of the river meters away from you, and enjoy how the heavy trees on the other side of the river shyly dip their branches in the water and bask in the sun.
Your ads will be inserted here by
Easy Plugin for AdSense.
Please go to the plugin admin page to
Paste your ad code OR
Suppress this ad slot.
I wished they all would vanish, or stop calling me out of my reverie as I sat there taking in everything that's happened. I was truly lost with my thoughts, and I didn't want to be found. I think that's when, that's exactly when I made one of the most important decisions that will change the next decade of my life. I just wanted to be on my own.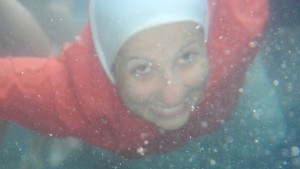 Some interruptions were welcome (like Zeid taking a couple of interesting underwater pictures of us. Others were less so, like the Dr. asking me to scientifically explain hot water springs in the middle of the Himalayas (which was OK & no I'm not explaining Geothermal heat here, google it) , while others making fun of me for being Ms. Know it all was not really all ok… and there it was, the the little insecure geek in me that hated the fact that I knew things rather than being proud reared its ugly head. Being named NadaPedia could be something that's really cool… but I just couldn't take it as a compliment. Sighing, I turned back to the river focusing on its sounds and shutting all other voices out.
Going back up to the lodge was a bit of a struggle, especially that soaking in the water for almost two hours has worked miracles on our sore muscles, and loosened them up in the process. And of course, once we are ALL the way up, I discovered that I forgot the keys to the room below. Thankfully, they found a spare key after 30 minutes, we showered, washed a big pile of cloths and the sun was still up to have a nice hot cup of tea at the terrace. I did snap a  muscle in my shoulder while hanging the cloths though, and thought that it would be one hell of a night in my coffin-like sleeping bag.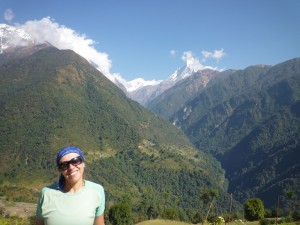 The night time at the lodge inside the common room was one of the most exciting through out the trip. We were playing cards (you've guessed it, trix again, this time complex), and out of nowhere, a cake with white icing was produced in the honor of Shireen's Birthday.
It is very refreshing to meet someone like Shireen, one of the reasons people could believe again (:) yes, I meant to write that). Shireen left a specific first impression on me: Ammani Barbie girl! Perfectly groomed, impeccable hair, perfect nails, designer cloths, and a hushed raspy voice that demands silence as she spoke. At the beginning I was all too worried from having to deal with a brat, but I couldn't be more wrong, luckily. She proved that her beauty is not skin deep, she's pretty inside-out. From the very few associations where business was mentioned (not even discussed), one can tell that she is a tough cookie to break. She also got a very interesting sense of humor and a broad smile that shows her upper teeth that just force you to smile

But still, she is delicate and girly one might thing she'd would break if mistreated, I can't help but smile to myself everytime I hear her in my mind refering to something as "Disaster… disaster!" in reference to a what she deems as sub par. Sheesh was dancing and smiling like a little 7 year old as we sang happy birthday to her… She made our night.
For the first night, we were not exactly freezing to a teeth-shattering degree, which is a great change. We were all happy excited and somehow sad that tomorrow would be our last day hiking… But mainly we were all swarming in a pool of mixed emotions that its finally ending. Tomorrow we have a short hike, and then we'd see roads, cars and buses again.
Tomorrow, I write again.
Day 1&2 | Day 3 | Day 4 | Day 5 | Day 6 | Day 7 | Day 8 | Day 9 | Day 10 | Day 11