Your ads will be inserted here by
Easy Plugin for AdSense.
Please go to the plugin admin page to
Paste your ad code OR
Suppress this ad slot.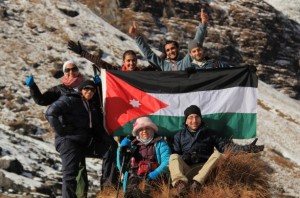 I got up very early from bed, even before 5 am, there was a lot of commotion outside and people talking, laughing and shouting. Once out, I saw over 30 people (some in shorts and tank tops, majority in very light clothing) warming up and stretching. As I was told by Eric & Julian from Canada, they are running down around 15 KM back to Bamboo, where they will have breakfast, and then continue on with their hike.
I loved that! The idea seemed almost as crazy as those who take a dip in the morning ice-cold ocean water in Scandinavia. We had an eventful morning nonetheless, the group as a whole woke up pretty early (well earlier than usual at least) and we had a great time taking pictures and enjoying the snow before starting in downward hike.
We didn't know that it would be the longest we'd walk in a single day throughout the trip! We knew it would be long, but not as nearly that long, It was ridiculously long… 23 KM long. Coming down from ABC (which I was dreading) was surprisingly fast and painless. What took us around 3.5 hours to hike from MBC to ABC was taken down to less than 45 minutes descending. I was chatting with Belal the majority of the time, and I was reminded once again of how lucky I am for having him as a brother-in-law… He's more of a friend/brother protective caring type rather than the in-laws smothering judging type, which I believe is why I value his opinion and input into my life more than all others.
Just as we passed MBC a little after 10 in the morning, there was this huge (well at first we thought it was a rock, but as we got closer and closer it turned out to be snow from a year old avalanche covered with dirt and dead plants. Once we got closer even, we noticed a waterfall behind it that carved a huge cave inside it… There's a special thrill in getting into places where you know it could collapse and bury you under it, but the insides of the cave where too Sci-Fi alien planet.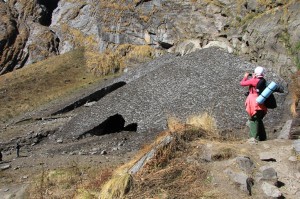 Lots of aspects of today's hike were somehow… different. First the terrain, it seems that we have gone through the entire 6 different climates that we have initially seen throughout the entire hike. Second, the actual fatigue, today of all days we were actually tired, as if all the walking from the previous days has finally caught up with us, and our legs were slowly now getting the message. But most importantly, it's getting close to the finish line, and to the feeling of accomplishment we're all anticipating.
I think that we have laughed and made fun of things today more than any of the other days, Maha, Belel, Effat & me. At occasions we were also joined by Hamdi, Zeina, Azzouqas, and Hareth. We laughed and made fun as if we were on something, it was our only mechanism to cope with the walking, I guess.
Towards the end of the hike (or so we thought at 5 PM) it started getting dark, and every time we asked our Sherpa how far off are we, he'd say one more hour until it was pitch black in the dense forest. Luckily we had our head lights with us, we strapped them on, and it seems as if after dawn the temperature had dropped from the delicious 15-18 that we were enjoying the whole to the uncomfortable 3-5 degrees.
Your ads will be inserted here by
Easy Plugin for AdSense.
Please go to the plugin admin page to
Paste your ad code OR
Suppress this ad slot.
By that time, it was down to Belal, Maha, Effat Hamdi and myself accompanied by the Sherpa Dundee. Through the light that is strapped to our heads, the little particles of the night forest were illuminated, periodically hidden behind the fog of our moist breath in the cool night. Forest night sounds were not comforting at all, with the constant background of the night cricket shirps, there were the occasional cries of what we all hoped to be some sort of a monkey, some owls and what we debated to be a hyaena.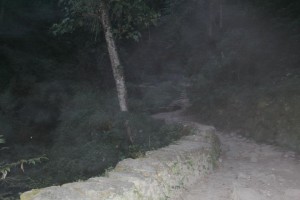 I think that fatigue, fear and real eagerness to get to the goddamned lodge forced each of us to deal with it differently. Maha had this whole surge of renewed energy that she used to walk fast, talk non-stop and sing at the top of her lungs… I sometimes joined her changing R. Kelly's popular song and singing off key "I believe I can dieeeeeee". Effat showed a whole new side of her that I didn't know existed, she was grumpy *gasp* she has an old sports knee injury and coming down thousands and thousands of stairs was not exactly fun. A couple of time she even decided to sit down and refuse to go on any further.
Hamdi started mumbling lots of things in his Chechen tongue, I bet the majority of it were profanity, but didn't dare to ask. Belal resorted to utter silence, trying to convince Maha to stop talking or slow down her pace. I sort of felt stuck in between, Maha at the front storming the dark forest without a flash light and depending on Dundees owl eyes and her wits I felt compelled to shout at her to slow down or keep it down. Effat at the back with Hamdi in the back glowering and almost giving up where with this one I felt compelled to shout at her to keep up and cheer up… Both it turned up later on had a hell of a time laughing their head off impersonating me.
When we finally arrived around 9 PM, walking none-stop for 6 hours, and started the walk over 11 hours ago… I was surprised with myself. I shuold be dead tired, grumpy, and really pissed off for not preparing us for this earlier. But all I were was happy, was really content and happy that I couldn't wipe that smug wide smile off of my face. Hamzeh, Mohannad & Hareth were all cheers and high fiving us, Dr. Ramzi was all smile with a great relieved look on his face.
We took a great spacious corner room with wall-to-wall wide windows overlooking the mountains, I knew that the morning would be incredible to witness here. I head to the shower, and Zeina had just finished her and was leaning against the railing of the second floor with her petite frame and a pensive look. I don't know why I was floored by the look on her face. I guessed I haven't analyzed Zeina a lot before, she is the youngest of the girls with the ever going joke that Effat is her mom and worries for her, she's perky and nice and thoughtful… but that look added a whole different dimension to her.
I felt like a boy secretly stealing looks at a girl he liked, I must have been there for a long time, she sighed twice… a deep, cleansing sigh that held so much meaning I felt that I'm snooping into something I shouldn't… I made a noise and she snapped out of it, in less then a second, her signature sweet smile was back, and she greeted me and told me about how she had a hot great shower the water was almost 40 degrees.
That night we sat around the dinner table laughing and talking and sharing horror and fun stories of our walk that day. Although it was the longest walking day, it wasn't the hardest or the scariest. I kept sneaking looks at Zeina's direction trying to decipher her gaze, and treasuring her relaxed happy laugh.
We went up the room Maha, Effat & me and of course kept on talking for quite a long time… Maha went into sound sleep first, Effat joined soon after. I put on my hat and went out for a small walk just after mid night, there was not a sound around, and walking up or down even the shortest of steps was pure agony. I took my ear buds from my ears, listened to the voices of the night until I couldn't bear the cold… Shivering I went up to the room, and burried myself into the warmth of the sleeping bag.
Tomorrow will be a short hike before we reach the last lodge that we will stay in… Tomorrow I will write again.
Day 1&2 | Day 3 | Day 4 | Day 5 | Day 6 | Day 7 | Day 8 | Day 9 | Day 10