Your ads will be inserted here by
Easy Plugin for AdSense.
Please go to the plugin admin page to
Paste your ad code OR
Suppress this ad slot.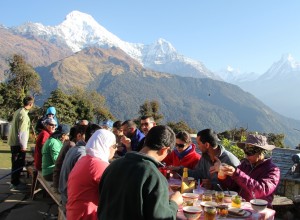 Despite the cold morning, everyone is up and about early, hanging around chatting, chasing chicken, or just basking in the morning sun trying to catch some warmth. It is without a doubt the coldest night to day (later, there were much much colder nights). I would imagine this to be in a Scandinavian country: green meadows around us, wooden tables and chairs on the small lodge stone patio, red checkers table covers, jars of honey and jam passed around to be spread on crunchy toast, and bowls of hot porridge to be enjoyed with hot steaming tea in cups with handles. The backdrop is mountains with white peaks, and the background is filled with barn yard animals' morning voices.
The group's morning have settled into a fixed routine by now, wake up at 6, fuss to get to the bathroom, breakfast with the regular 2-3 who don't like whatever is being served, fuss to pack and get the stuff out, filtering the water (the young Tabbalats & Husam are the stars of that show usually, with the occasional help from everyone), then more fuss (group photo, where are my poles, who's hat is this, how long is the walk today…) before we hit out again. And on we went.
Imagine life, energy, happiness and laughs all bottled up into one person, with an eternal smile, a hearty laugh, and you would have Effat in front of you. At first I was a bit discouraged by the over-the-top friendliness she showed (have bad experience with people who are too friendly too fast), but she doesn't give time to question her motives, or pull back & push her away, she just envelopes you with sunshine… Force you to smile & set aside your worries for another day, away from her space. Somehow, Effat, Maha & me became "The Three Musketeers" walking together, laughing, making fun all at different levels of excitement (me being the serious one (yuk), Effat being crazy one, and Maha being the social butterfly she always is).
The day was tough, although the forest was dense and magical, having too much to talk about with so many different people sort of distracts you of where you are,  to focus more on the moment and who you're with, which is a different experience that today, I was grateful for.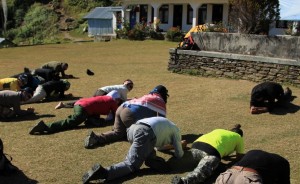 In the morning break, the group had a Yoga session in a nice green platform lead by the one & only – Hareth. Although it wasn't really easy and the majority of the crowd were laughing their pants off stretching to awkward positions with the funny names, it was very helpful to the poor sore muscles … maybe I should starting thinking about Yoga! … … … naaaah.
At lunch, I decided to lay down on the grass and enjoy the sun. The sun seemed to be pissed off & took it out on me, even with the sunblock, I was as orange as an oopma loompa in just 20 minutes, leaving me with a funny خط نور that I still have to this day. That gave a few people in the crowd something to laugh about

In the late afternoon, just a little before reaching our destination, a clearing in the road emerged, along with a number of huge buffalos that were blocking our road. A group of us somehow got tangled in the middle, the road was very narrow, with a very deep cliff to the right. We knew it was no joke, but we couldn't stop laughing about it. Hareth got stuck between one that was walking in front of him, and a pack that was slowly climbing from behind him. Maha was laughingly shouting "Bandits… Bandits…" we couldn't control ourselves or the laughs.
We went on walking and laughing, some moved faster than the others. Some of the fastest who always used to arrive before everyone else were the young Tabbalats (Hamzeh & Mohannad) and Muna!
Your ads will be inserted here by
Easy Plugin for AdSense.
Please go to the plugin admin page to
Paste your ad code OR
Suppress this ad slot.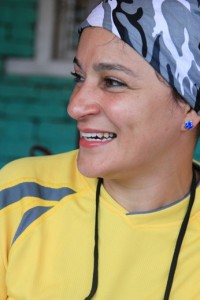 Here's a confession: I first wrote about Muna in the third day about her reaction to the seating arrangement at the dinner in Pokhara, but for obvious reasons, I decided to move that bit to this day. Muna is one of the classiest people I've met in my recent years, she is impressive in more than one aspect. When you first see her, you'd think she's in her early 30s, meeting her daughter who just graduated from college only added to the admiration I have for her. She's probably the most fit of the girls, and has more stamina than most of the boys. She has this quite voice, but she has a strong presence and that combination is exquisite. Well-read, cultured, and a true professional, she's fit to be a royalty.
Just after lunch, we went past those wonderful Nepali kids, and she started giving them candy and they huddled around her in admiration and gratitude. Talking with the musketeers later that day about her accident, we couldn't help but wondering if the reason behind her accident was just how perfect she was in comparison to the rest of us!
A raging horse in a narrow path decided to head our way, she happens to be at the front with her enthusiasm and steady feat. We have just had our buffalo encounter, Mohannad & Hamzah & Hareth up ahead with her, Musketeers and Fittiani shortly behind. A horse just stopped in front of us, and the man riding it had a panicked look on his face as he turned around and sped again, shortly Hareth was running with a look that I haven't seen on anybody's face before (not even in horror movies), "Muna fell off the ledge & broke her arm" as our hearts all sank glancing at the ledge with no base to see, we all ran forward not knowing what to expect, and dreading the worst.
Muna's calm suddenly absorbed all the tension around, the scare that ebbed was transformed into calm, logic and clarity of what needs to be done and what shouldn't. One by one the group started showing up panting from the run to get as fast as they could. Fear, worry, panic, guilt, and total loss alternated on the faces depending on who the face belonged to, and what their assessment of the situation was. But the one that held the atmosphere together & prevented the situation from exploding was Muna, and how she held herself together despite her deformed arm, and obvious pain.
Dr. Azzouqa arrived, quickly and expertly assessed the situation, provided his medical opinion (the arm is broken and she needs to be X-rayed and treated professionally), and with twigs and scarfs created a make-shift cast for her arm, and soothed his patient.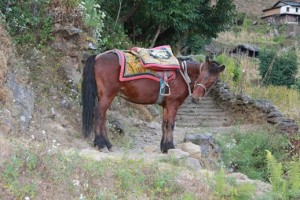 The whole mood was electrified during the last 500 meters before Chhomrong, everyone rarely spoke, the worry on Dr. Ramzi's pale face added years to him, and ached my heart. When we arrived, the majority were in her room wishing we could offer more than just moral support of being there. Some dealt with their anxiety by completely withdrawing, others held their ground and hovered around the room being redundant, Fouad & Dr. Ramzi were on the phones with the insurance companies and travel agency, Nada was in the kitchen cooking comfort food…
We're in the room chatting about nothing as Muna was laying on the bed with a broken arm & her only worry was: "I really hope this doesn't mean I can't continue!" How many of us would hold it together the way she has if they were put in the same situation. How many would be as graceful and determined as she is? A true strong woman emerges and teaches both men and women what strength truly is. I bow with respect to you Muna.
As I lay down at night chatting with Maha before we sleep and talking about the days ahead, and what Muna have gone through, and the funny encounter with the buffalo that in retrospect is not too funny anymore, we wonder what will happen next, and what tomorrow holds…
As it turns, it holds a lot, and tomorrow I write again.