Your ads will be inserted here by
Easy Plugin for AdSense.
Please go to the plugin admin page to
Paste your ad code OR
Suppress this ad slot.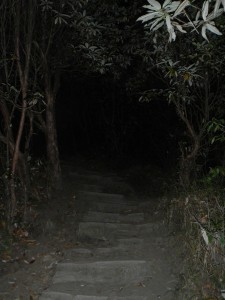 This is a day that I will look back at, and wish to relive again and again. There's nothing superlative about the day, wasn't the most difficult, wasn't the easiest, wasn't the most fun I've had, nor the happiest nor the saddest. It was just the day that I would chose to relive if I had to.
The start of the day was brutal to say the least. Hiking started at 4 am, well before the sun was up. We were hiking up to Pool Hill, a panoramic viewpoint more than 400 meters in elevation above where we're at, and around a thousand stairs away. Upon last night's advice from our Sherpa – Dundee, we've put on every warm piece of clothing that we've brought, didn't have a coffee, quickly brushed our teeth (I know I did, and regretted it) in the freezing water, and onward we went up the stairs into the dark forest.
This is bad! I'm dizzy, cold, can't breath, tired, and above all I'm worried about my new "medical" condition. I lagged behind the group around 20 minutes into the hike and contemplated going back to the lodge. Just as I was turning around, deciding to give up, in the dark I saw the other Nada. Through the dark my head-lamp illuminated Nada's white face, and her eyes glistered as she smiled as said: "Shoo Naddoush, yalla let's go".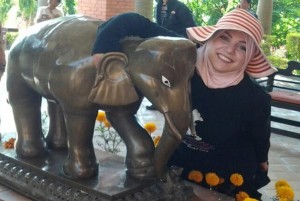 She's not a hallucination, or a figment of my imagination, there really was another Nada in the trip! Nada AlKurd is this sweet lady who is the designated cook of the group, the one with the goodies and candies and things you can't imagine should be available in a hike. She's been with the group since ages, everyone knows and loves Nada & keeps calling her name. First, it was weird to hear my name and not answer to it, but it quickly became interesting… people call me, but it's not me they want! God outwardly ignoring people felt good

but then again, force of habit would kick in, and I answer to the call milliseconds before my consciousness registers that it's not for me.
We were in worse shape than one another, & the effing trail would just.not.end! Just before the crack of dawn, we've arrived to this clearing in the woods, and it was like my dead batteries were fully charged all of a sudden.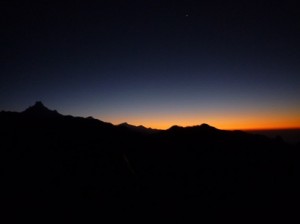 The view was euphoric! على مد بصري، أيام ما كان عندي بصر is this breathtaking vista of white mountain range, tips sparkling in the morning light with orange and yellow hues, where the bright stars are still visible in the indigo sky. I took a breath, grabbed a hot masala tea with Fittiani, and started snapping pictures right left and center.
Fittiani is the Jordanian who joined the group from Kuwait. At first, my impression of him was this quite, deep person who does not like the childishness of the group that much, often staying away, observing rather participating, and seldomly speak. Boy was I wrong

Fittiani is funny, warm and extremely suicidal (OK, adventurous), he's the one going down the 1800 stairs at a speeding pullet acceleration, somehow gets on top of strange and dangerously looking boulders, and experiments with food – a lot. He's a great camera man too.
Your ads will be inserted here by
Easy Plugin for AdSense.
Please go to the plugin admin page to
Paste your ad code OR
Suppress this ad slot.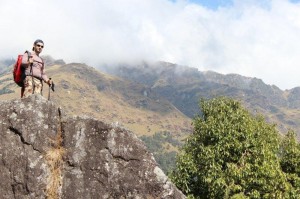 On the way down, the frost was cracking under our feet and sparkling in the morning sun, the sub-zero weather didn't bother me anymore, and hiked down almost effortlessly back to the lodge to have breakfast, pack and head out to another 10 km day. Although I should've been tired and beat, I was as energetic as ever, and the stairs to Tatopani didn't bother me at all.
For a reason or the other, I walked alone this day. I popped my ear-plugs, put on an audio book (The Power of Habit: Why We Do What We Do in Life and Business) and pretended that it was the forest and me. Maybe because for the first time I truly was with myself, maybe because I got to reminisce the good old days, think about all the great people who are in my life, and the ones that are not anymore. I was too nostalgic

Today I realized how much I miss dad, and miss having him around. I miss having a dad. Somehow, when a girl's dad dies, a layer of protection drops, and she feels exposed.
As I was walking and looking at the ground, the stones and sand started to change, it's not brownish grey anymore, it's very grey and it sparkles. First I thought that my mind was playing games on me, or I'm simply too emotional and imagining it! But the whole groups were marveling the same thing, and from that point on, all the stones and sand had this amazing glittery in them that only added to the magic of the place.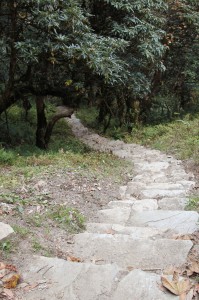 Even at lunch, I preferred to go into the lodge and lay-down in the rest house rather than chat with the rest while food was being prepared. I wanted to be alone. After lunch, the forest became denser, and the light became dimmer… It was a cold day, even with walking and sweating, my face and hands were cold and I put on my light jacket.
Walking into the forest, it started raining, more of a drizzle. Droplets of water that adds to the magic of the walk without adding discomfort. And all I could think of was how much I miss Tara, and miss having a best friend that understands without explaining, without talking. That one person who knows without judging, and loves you despite knowing who you really are.
I arrived to the lodge just after the sun went down. for the last 30 minutes, Dr. Ramzi caught up with me and we hiked together to the lodge in comfortable silence. When we arrived, I grabbed our bags and went into the room, setup my orange sleeping bag on the bed and changed into sleeping cloths. Maha tried to convince me very hard to join the group for dinner and stay out with me, Effat (aaah Effat

) joined in the convincing quad, but I just wanted to stay in tonight. I wanted to really reflect on the day, process and feelings, and  nuzzle up in the warmth of the sleeping bag.
So I did… I was awake when Maha came in to sleep – what a great spirit, and a real pleasure to be around! I'm so happy I asked her to join in this trip. We chatted a bit about their evening, and as she slept I knew that today has ruined the rest of the trip for me because it was the day that I want to relive. Just like reading a really good book ruins the upcoming 3-4 books for you.
I decided that I will not let it do that, and expect tomorrow to be as good, and give it a chance to wow me.
Tomorrow is too soon, the sun is almost up! But tomorrow, I write again.