Your ads will be inserted here by
Easy Plugin for AdSense.
Please go to the plugin admin page to
Paste your ad code OR
Suppress this ad slot.
I woke up around 5 am, it was still dark outside, cold, and the warmth of the sleeping was way too enticing to let go of. Other than a distant rooster, and the snoring of a close by tired trekker, there wasn't a sound to be heard. I felt that my breathing is too loud and might wake the whole lodge. I took a walk around hoping to ease the congested bowels with no luck. As it turns out, the majority are constipated (maybe its the food, the altitude, or just the different atmosphere)… And yes, if you're reading about the magical moments we've been through, you will also read about our bowel movement (or lack of, that is).
There was still no one up after the walk, and there's a special merit in having the only one bathroom and outdoor sink with freezing cold water all to yourself in the wee hours of the morning. But then again, there was one person who is always up as early as I am. Dr. Ramzi Tabbalat.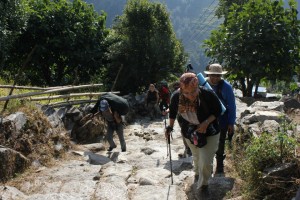 You'd think by now we'd drop the title, and just call him Ramzi, but there's a special kind of aura to this person. He's that cool boy that you've wanted to hang out around at university, the authority figure of a father, the knowledgeable friend, the joker of the group, and the reference point for everything all wrapped into one. Dr. Ramzi is also the founder of Walking Jordan, a voluntary group that spreads the love of hiking and trekking in Jordan who have take it international and setup this whole trip, so in a way I owe him this adventure.
I'm in awe of this person (and I think that this would be the first time he'd hear this from me), with his camera and care for everyone. When he thinks no one is looking, you can see the concern in his eyes and the worry for the group well-being and safety. I miss my dad terribly, and can't help but envy his kids when I'm around him.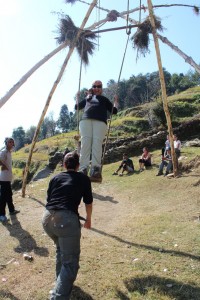 The stairs were a nightmare, the kind that you know while you're struggling through them just how much you will be proud of yourself later on that you've survived that and lived to tell the story (even if virtually). But we moved on. In the mid morning, we came to this amazing natural terrace with green grass and a traditional Nepali swing that we all took turns on… Just like that, from gasping for air and soar muscles, into kids on recess. And just like that, we carried on into more stairs.
We stopped for lunch at a great platform overseeing a mountain range hiding the white peaks behind it, a promise of what is yet to come. To my left as I sat was this deep ravine filled with a raging river and waterfalls that we could hear, the mountains opposite were so green and set against a backdrop of a very blue sky… What a vista! Subhan Allah becomes a very redundant word. Just as I'm gathering myself up to rejoin the discussions on the table, a flock of black crows (or is it ravens? I really can't tell the difference) were soaring in formation and changing direction abruptly and gracefully.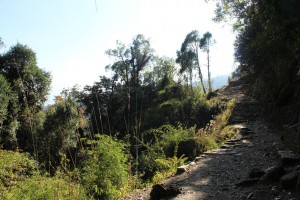 Your ads will be inserted here by
Easy Plugin for AdSense.
Please go to the plugin admin page to
Paste your ad code OR
Suppress this ad slot.
I wondered secretly at how a flock of crows (or a school of fish for example) can do that! Move so fast, so coordinated, change direction at the same time and in coordination as well without bumping into one another or even coming dangerously close! I smiled to myself, and rejoined the trivial discussion on the table.
After lunch I was walking with Belal again, and told him how completely perfect this adventure would be if we had more intellectual, thought-provoking discussion. There was no shortage of jokes and fun, abundance of girl-talk, and over-flow of Wikipedia stories and tidbits, but not the kind that picks your mind and pushes your thought to the limits, just like the hikes are pushing your muscles to their limits. Can't have it all now, can I? Have I really became that boring person that's only happy with serious talks? Yuck!
The hike after lunch was as if we were transported into a foreign planet. The colors, smells, waterfalls, giant tress, weird insects, strange voices, narrow trail, strange pictures… everything was magical! I felt as if I was walking into an enchanted forest from a children's book… Everyone was amazed and couldn't stop talking around us.
While walking, Hareth & Hamdi behind us were engaged into an interesting discussion, and the word "Intrinsic" caught my ear – of course. Belal and me eavesdropping for a while looked at each other and smiled, that's the discussions we ware looking for, slowed a bit for them to catch up, and started into one of the most interesting discussions about perspectives, individualism vs. collectivism, and music! Hareth became an instant favorite person for me, and we walked the way up to Ghorepani together.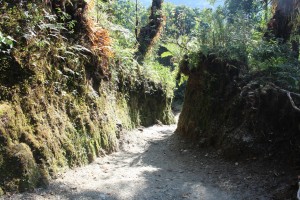 Ghorepani is wonderful! And then I thought, well everything is wonderful in this country, unique and different but still has the same powers to draw you and immerse you with it that you almost feel you're a different person in this country. We finally have clear views of the white mountain tops, and the lodge we're staying in is this big brick hostel-like building consisting of two floors, and a wonderful view.
This hike took a real toll on me! I was tired, bloated, in desperate need of a shower and a bathroom, and really hungry. Keeping up with Hareth (who is very fit, and fast for me) was not the best of decision I made, and while my mind got the exercise it craved, my body was well past its tolerance.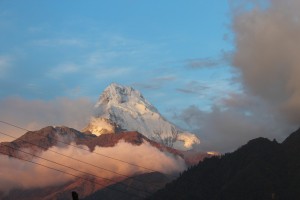 Originally, this post was called: The day of the intellectual conversations and hemorrhoids! Thought that this would be way over-sharing, and decided on a more pleasant title for those who don't end up reading the whole thing. But… you get the story, right? Dr. Inaam was a bliss and a great help, she was very motherly with her help, but also acted as a doctor and helped me through this… Just knowing that I have her around made things much more tolerable. Crying is really not a favorite of mine! I hate crying, especially when others can see, and hate criers as well, but nothing a hug from Maha, a pat from Muna, and an instant remedy from Nada (yeah, there was another Nada, more on that soon) couldn't help patch up.
Before we go to sleep, we were given the instructions to wake up and be ready at 4 in the morning, put on our warmest cloths, and not miss the chance of one of the highlights of the trip… We're going up to Poon Hill…
Tomorrow I will tell about Poon Hill, and tomorrow, I write again.