Your ads will be inserted here by
Easy Plugin for AdSense.
Please go to the plugin admin page to
Paste your ad code OR
Suppress this ad slot.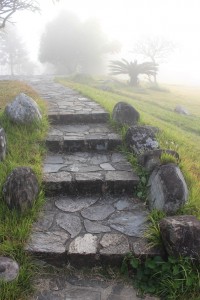 I woke up early, or I should just say, I got bored laying in the bed sleepless too early. Maha –  my room mate – was still in bed sleeping peacefully, so I didn't think packing would be a good idea. Had a quick shower, prayed on the balcony, and as the dawn cracked, a magnificent view started to unravel before my eyes.
The entire place was engulfed with fog! It was too magical to pass. So I grabbed my camera and headed down for a walk around the hotel – The Fulbari Resort & Spa in the chilly morning. I was entranced by the quietness, the smells and the mystery of the fog. Trees and flowers were covered in tiny droplets of water and the smell of wet soil made me wish I could be more eloquent with words that I could capture how it really felt. In the morning breeze a little white flower drifted and nestled near my feet, and I decided to take that as a sign that Nepal was wishing my good luck in my first day of the hike!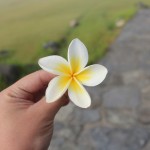 It's the first day of Adha Eid… I brought Ka3k & Ma3moul from home for all… We exchanged quick greetings as Dr. Inaam & Dr. Mustafa passed chocolates they've brought for the Eid around the group. I looked at them and wondered if 30 years into marriage, I could be as comfortable and loving with my partner as they are. You can sense in the way he looks at her how deep his affection is, the way he puts a protective hand around her, the way she looks at him with worry when they over work themselves. I say a mashallah under my breath, smile and take the chocolate with a wish for good year ahead, and decide to keep my compliment of how much I admire what they are doing at their age, and doing it together to myself, and move on with my day.
Off to the bus again to our starting point: Nayapul. The bus drive was less than 2 hours, and I couldn't get rid of the tingly feeling all over. How do I appear normal and composed just like everyone else? A look around the bus and I could tell that all of them were equally excited, and each had a distinct way of dealing with the anticipation.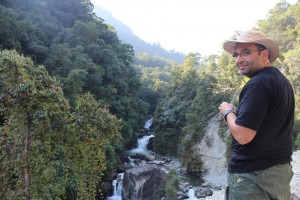 Nayapul, at just a few meters above 1000 meters above sea level, is this little village with street shops, chicken and children running everywhere, and locals who've seen more tourists than they care to notice. After seeing our porters log our heavy bags on their bags/heads and head off in the narrow streets, things have officially started for us, and in less than 15 minutes we were crossing our first bridge, and passing the last mark where we'd see an automobile for the upcoming 10 days.
The star of the day were stairs! We've been told that we will be going up thousands of stairs on our first day, but being told is a bit – just a bit that is – different than actually going up them. There were lots of stops for rest along the way, a formal break mid-morning and mid-afternoon in a small cozy lodge/rest house, and a long lunch break to replenish one's energy, but still that was tough. Later I'd learn that tough was an easy difficulty level to the brutal limits we've reached… but that's for later.
Along the hike today my walking partner was Belal, who is in addition to being one of the sweetest and remarkably kindhearted men I know these days – if not THE most – is also my brother in law. Hiking with Belal is amazing, while unlike other members of my species I don't enjoy non-stop talking all the time, and like to actually hear the voice of my thoughts, I also don't like the "no talk at all" rule some people have. Belal is the perfect balance of talk and walk with your mouth shut.
Your ads will be inserted here by
Easy Plugin for AdSense.
Please go to the plugin admin page to
Paste your ad code OR
Suppress this ad slot.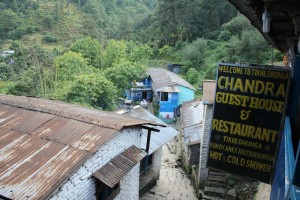 The trail is amazing… every kilometer of the 10 we've hiked today is different from the other… We started with a steep set of stairs that leveled off to a nice flat plain of fields of rice and white horses, hiked up a mild hill (Nepali flat as they call it) where we took lunch and rested, then hiked up a more steep hill into the woods, into the woods just a little before dusk.
Have you ever been inside a forest in the twilight? listened to the beat of your heart and the rhythm of your breath as you're thinking only steps away from rest, secretly talking to your legs "man up! don't you dare buckle, not just yet"… forcing yourself to look up, look around instead of closely watching your step… Maybe you have, but before tonight I haven't! I didn't know what that was like.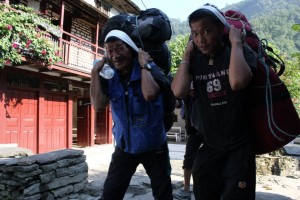 Reaching Tikhedhunga (yeah, I don't know how it's pronounced either) a little before 6 PM, checking my small altimeter it says 1490 ASL, we hiked around 10 kilometers, and (later I found out) over 500 meters up… seeing a bed in the humble second level lodge as we arrived was like telling me I won the lottery! But yet again, sleep is not the plan for the night.
In our trek, we have around 11 porters. Talk about hating your job or thinking that you slave for the capitalism monsters! Those people carry around 30 kilograms and hike what we struggle to finish in half the time, and most of the time without breaking a sweat. Some of them are well in their 30s and 40s… there's this man who later told us he's in his late 50s. Arrive well before us, eat scrapes of the food portions we devour, and happily carry our bags, that for some are filled with unnecessary items that were never used, and have sweet smiles on their faces at the end of the day.
Once we've arrived, had dinner and about to call it a night, they throw this make-shift party for us, signing and dancing to the rhythm of local bongo, and chanting Reshamm Firiri – which is a Nepali Folk song that ended up being our anthem of the hike giving it different variations like: تزحلق حبيبي singing it to the same tune of the song, or طوّل مديري or any other variation depending on what the mood strikes.
I'm tired, absolutely beat, my feet hurt, I can't walk up and down the 7 steps in the modest lodge we're in, I have a headache, can't feel my calves, and there's something really itchy on my forearm… somehow, I can't wipe that stupid grin off of my face! So I snuggle in my sleeping bag, chat with Maha until she falls asleep, and think of what exciting things await for me tomorrow.
For tomorrow, I write again.