Your ads will be inserted here by
Easy Plugin for AdSense.
Please go to the plugin admin page to
Paste your ad code OR
Suppress this ad slot.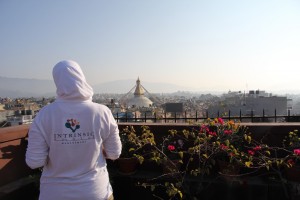 Few years ago I thought Business has forever ruined the idea of travel for me, there would never come an opportunity where I would wake up excited about an 8-hour drive in a bus with questionable structural integrity, on a road that is dubbed one of the most dangerous in the world by BBC… But I was, I was excited and in fact looking forward to it.
After having breakfast on the terrace of the 7th floor overseeing a magical skyline of flat Kathmandu around us, the group snapped the first group photo of the entire lot, packed our bags on top on the bus, and nestled into the old but oddly comfortable bus.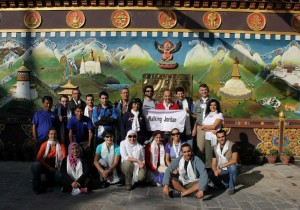 During the first 90 minutes of the 8 hour drive we couldn't get enough pictures, every turn had a shot that's worthy of immortalizing with a picture… Houses, trees, turns, people, waterfalls, cars, animals… Every little detail invokes an emotion or some kind of a memory… Soon enough taking pictures became redundant, even if you can capture the scene, you can't capture the atmosphere, and nothing would convey the emotions.
The majority fell asleep to the rocking of the bus & bumpy road, I have to admit I envied them, not being able to sleep even on a comfortable bed and quite confinement of a bedroom. Some of course took the opportunity to pull pranks on those sleeping, Effat & Fouad being masters at that. Others couldn't get enough stories and discussions going, I wonder how they could talk non-stop for 8 hours and at the same level of engagement & enthusiasm.
Arriving at the hotel (which turned out to be a resort worthy of the best honeymoon with great scenery and amazing places) the group was rather excited than tired. In less than an hour the whole lot was in the bus headed to downtown Pokhara for shopping & steaks.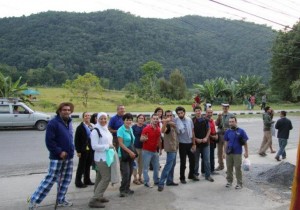 I loved Pokhara! What a city, what a life, what a feeling! We shopped, walked, talked, and we had dinner at a great steak joint named "The Pokhara Stake house" on the second floor of a humble building with a steep set of narrow stairs, and old wooden chairs.
After what seemed to be hours (but in reality took around 15 minutes) of trying to figure out the best seating arrangement to seat the whole group in the small terrace of the restaurant, an L-shaped setup was finally agreed on, and I was seated at the sharp angle of it. Funny how a trivial thing like how or where to sit becomes a tell-tale of people's personalities and psyche. While some decided to withdraw, stand on the side & watch, others started providing solutions and creating schemes, few decided to withdraw and take another table, while few others chose to deal with awkwardness with laughter and jokes. Once seated, all was forgotten, menus were passed, food was devoured, and pictures were snapped.
Speaking of devouring… Effat & Fouad decided to order this 1 Kilo Steak… a whole Kilogram of steak that was literally devoured, and they were able to talk and walk after that. I admire that energy and love for life, non-stop laughs and play… This is why I'm here for!
And then the question hits me at a million miles an hour! Why am I here? Why is any of us here? I looked around the table and like cartoons or comic books characters (or a cheesy TV commercial) bubble callouts started appearing on top of their heads…
Becuase I can |

I'm looking for an adventure |

Your ads will be inserted here by

Easy Plugin for AdSense.

Please go to the plugin admin page to
Paste your ad code OR
Suppress this ad slot.

I do this every year |

I'm not really sure, I want to find myself |

I'm bored! |

Wouldn't it be nice to come here and do things and meet people and make friends and take pictures and… |

<what was the question again> |

I'm disparate for a change |

I'm in it for the challenge |

Well, where else would I go? |

Why not? |

This is who I am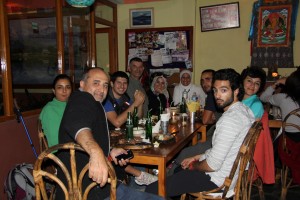 But then again, I know why I'm here, just as much as anyone who knows me knows why I'm here… The question remains whether or not I will be able to fulfill why I came here for, or will I go back with a bunch of fantastic memories, new bunch of friends, and loads of pictures and words.
We went back to the amazing hotel not to sleep of course, especially that the following day we'd start our hike a little later than scheduled, the lobby of the hotel offers free internet connection, a rare commodity that we will not be so lucky to have in the upcoming days. Once again, sleep was not on the agenda for the group! Argeeleh, cards and long walks & talks were. We stayed up until the hotel people decided to kick us out of the tables around midnight, and I find the solidarity between the pages of a book.
As we recap what happened during the day me & Maha, recall the funny bits, and roll our eyes at the corny ones, I still refuse to think of what is to come, have expectations or visualize what will happen.
So now off to sleep, and tomorrow I write again…